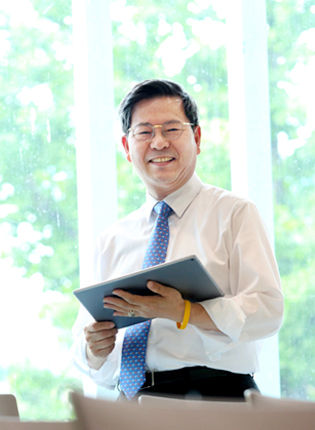 Greetings from

the 7th
President of aSSIST
Acclaimed as a "First Mover," Seoul School of Integrated Sciences & Technologies (aSSIST) is Korea's very first professional business school, with specific purposes to focus on Master's and Doctoral programs, and was established in 2004. Based on our school's philosophy of the 4T's (eThics, Teamwork, Technology, sTorytelling), our goal is to cultivate executives and professional managers capable of exerting creative management skills, forged with professional knowledge in the regarded field, ethical beliefs, environmental awareness and insights towards the future.
Today's education environment is undergoing rapid changes, and there is no doubt that business schools have entered an age of limitless competition. With such fate, aSSIST has been expeditious in moving forward by developing education programs that provide solutions to the future as well as introducing education systems adaptive to changing society.
With the affiliation of more than 1,000 CEOs and social leaders, aSSIST strengthens internal stability within its Master's and Doctoral programs and fosters global professionals, thus, forming a new grid networks.
With the business environment constantly evolving, the Seoul School of Integrated Sciences & Technologies (aSSIST) stands as a First Mover offering new paradigms in business management, and will "aSSIST" all those who seek for professional talent capable of creating a sustainable future.