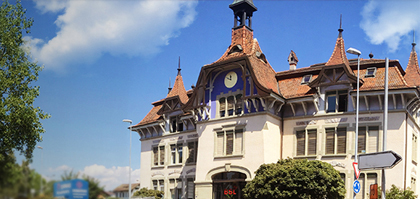 Business School Lausanne Big Data MBA Dual Degree Program
Credit Composition
Business School Lausanne (BSL) Big Data MBA Dual degree program is a 1.5-year MBA program designed by Switzerland Business School of Lausanne and aSSIST. If students meet all of the graduation requirements, they will earn both BSL(Business School Lausanne)'s Big Data MBA(Master of Business Administration) degree and aSSIST's Big Data MBA. BSL dual degree is optional and students can only acquire aSSIST Big Data MBA degree.
curriculum table
Acquired Degrees
Big Data MBA (aSSIST)
Big Data MBA (BSL)
Duration
1.5 years
Class
Friday & Saturday
Credits
48 Credits
Degree Requirements
Meeting graduation requirements of both schools


aSSIST: 37.5 credits
BSL: 4.5 credits (in Korea)
3 Credits in BSL Big Data Boot Camp (in Switzerland)
3 credits of aSSIST Thesis
Curriculum
Course duration: Total 1.5 years (including overseas schedule)
Business School Lausanne Big Data MBA Dual Degree Program is constructed by combining both systematic curriculum and field-oriented contents.
Curriculum table
Division
Course Title
BSL Mandatory
(When students choose to acquire dual degrees)

Scenario Planning
Developing and Managing Others
Solving Big Sustainability Challenges

General Business Administration
(aSSIST degrees only)

Strategic Management
Advance technology and Management
Scientific Sales: Sales Model and Management

Data Science Basics

Data-Driven Decision Making and Strategies
Digital Marketing
IT Basics
Data Analytics in Practice
Big Data Theme Selection/System Construction

Major Foundation

Mathematical review for big data analysis
Principles of Statistics
Multivariate Statistics
Basic R
Advanced R
RDBMS & SQL
Big Data Methodology and Machine Learning
Basic Python
Advanced Python
Data Mining I

Advanced Major

Data Mining II
Data Mining III
Artificial neural network analysis and deep learning
Personalized recommendation modeling
Internet of Things Development / Practice
Individual Topic Research
SNS Analysis
Chatbot Business Planning / Development Practice
Comprehensive Practice:
Big Data Platform Design / Implementation / Practice I
Big Data Platform Design / Implementation / Practice II
Big Data Platform Design / Build / Practice III

Thesis
Business Project and Thesis Writing
BSL Big Data Boot Camp
Held in Switzerland for approximately 2 weeks(Nestle Project)