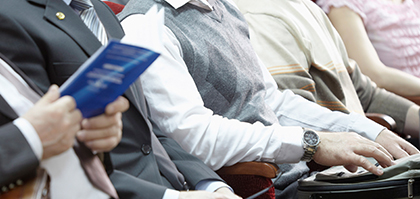 Program Overview
Program Overview
aSSIST's Business Administration PhD program is for those who have extensive experience in different industries and are already acknowledged for their excellent management skills in companies, but wish to integrate business theories into their business proficiency. This program starts with a research proposal from the first semester, along with research methodology modules, small group discussions and 1:1 individual thesis classes which enable students to obtain PhD degrees within three years. Students can reach out and choose professors they want for their thesis writing comprised of personalized training and guidance to help completing the thesis.
Major characteristics of aSSIST's PhD program
Comprehensive and systematic capabilities as:
Researcher: Constructing simulation models for decision-making processes and analyzing data to solve business problems
Statistician: Using statistical analysis for hypothesis testing
Programmer: Utilizing big data technology and system dynamics to understand reality and to predict future
Decision maker: Solving problems and making decisions
Communicator: Commanding verbal and written communication channels with people and society
Completing the entire doctoral program within 3 years, which can be shortened to 2.5 years for students in the MBA-PhD Joint Program
First-year study devoted to research methodologies that include basic and advanced statistics , case approach, and system dynamics
Second-year study on 12 topics to integrate various functional disciplines in business administraton
Group seminar, colloquium, 1:1 residential advisor system for research and dissertation writing
Two supervisors per student
The first professor supervising the content of research, and the second professor supervising the process of applying research methodology
Academic publication of research output
Publication of 3 academic journal papers in lieu of unpublished doctoral dissertation
Two out of 3 papers to be published in National Research Foundation academic journals
[Conditions for award of PhD degree]
· In principle, each of 3 journal papers on literature, case, and empirical analysis
· Two out of the 3 papers to be published in National Research Foundation academic journals
· One of the three papers written in English
※ A paper published in either SSCI, SCI, A&HCI journals counted as 3 papers
※ A paper published in SCIE journals counted as 2 papers
※ Published in international journals, is equivalent to one selected for publication
* Above standards are applied until the termination of the academic journal publication policy by December 2014(expected). Further announcement will be made on academic journal ratings after the Ministry of Education, Science and Technology announces the related new standards.
Career-orientated professional course
CEOs who have over 10 years of work experience and other leaders of organizations are given preference
Suitable for professionals who wants to integrate their practical knowledge with academic comprehension
Strengthen academic activities and diverse knowledge exchange stages
Opportunities will be offered to present and participate in various group seminars, conferences, and colloquiums.
Unique operating system
aSSIST has a PhD degree holders committee composed of full-time professors, external experts, and PhD degree holder representatives.
Program Administrators
Faculty
Kim, Bo Young (Academic Dean)

Research methodology, brand management, design management, marketing strategy – leader of industry center for privacy protection
Park, Cheong Yeul (Program Director)

Research methodology, statistics, organizational commitment, leisure psychology
준비중